The FUSION IoT customer and partner data SIM card management platform – straightforward, automatic and administrative burden free. The user-friendly interface provides End users with information about the SIM card and data usage overview, while allowing data purchase and online payment.
We are a long-standing partner and supplier of the FUSION IoT platform. As a result, we are now able to offer COMVERGA Billing for FUSION IoT, which allows us to provide additional services on M2M SIM cards throughout their lifecycle.
The service is intended for all FUSION IoT customers and partners who want to offer data top-up, provide all information about the SIM card, etc. to the End users of their devices with a FUSION IoT SIM card. 
Clear and intuitive
user web self-care
Data rebuy within few clicks,
online payment
Automatic generation
of documents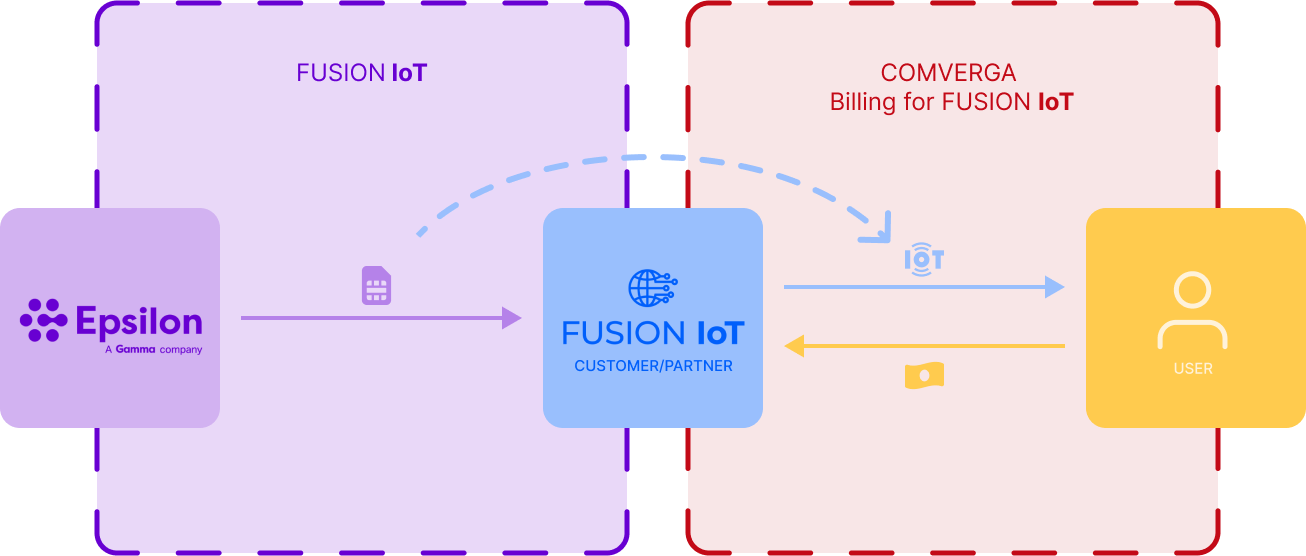 The End user gets
Data usage overview
Data rebuys
Convenient online payment
Customer / Partner gets
User web self-care
Personalised payment confirmation
Effortless summary for accounting
Billing for FUSION IoT offers
Status overview
Data package order flow
Money collection via multiple payment channels/methods
Automatic document issuance for End users and for your accounting
End user notifications before package exhaustion (time/volume)
Starter
Comprehensive and straightforward user interface

Effortless set up

SIM card status overview

Data usage overview

Widget for integration into your own environment
* No set-up fee | Prices are without VAT
Premium
All functionality from STARTER

Custom data management on the SIM card

Online card payment

Personalised payment confirmation for End customers

Automated summary documents for accounting
* No set-up fee | Prices are without VAT
Individual
Pricing according to individual requirements

Example

Customer structure, commission setup

Automatic processing of commissions

Automatic processing of commissions

Etc.
* No set-up fee | Prices are without VAT
If you are interested in the service or have any questions, 
please, fill out the short form and we will contact you as soon as possible.